The HMC, Heavy Metal Platform - Years in the Making
GEARS was developed in the classroom and for summer engineering camps in 1995 by our co-founder, a high school educator. He was looking for ways to involve students in real engineering activities and projects. Game based robotics was emerging and technical and engineering schools were looking for students with project-based engineering skills. Robotics became the vehicle for this engagement and his program increased dramatically.
The problem was there were little if any robotic products available to educators. They started out with Hobby RC and erector sets. These lacked the toughness for sustained classroom use, requiring continual replacement of broken or lost plastic parts and bent, thin gauge steel. It also took too long to prototype and manage parts so there was less learning time. Eventually, other companies transformed their consumer based robot kits into this growing educational marketplace. However, the same problems prevailed. Thin metal and small, inefficient motors could not withstand the rigors of the classroom. Moreover, the toy-like kits with proprietary parts were educationally limiting. After all, important engineering lessons and experiences involve research and reading of published specifications offered by companies that manufacture the real-world components and comparing this to results in the field.
In 2001, GEARS Educational Systems was founded with a different concept. "If we are educating the technicians and engineers of the future, why are we training them with toys?" So GEARS decided to raise the bar. We launched the GEARS Invention and Design System. It was comprised of heavy duty 090 thick aluminum structural pieces, stainless steel axles, industry grade all metal gear head motors from Ametek Pittman, a full set of real pneumatic components from SMC, gears, and sprockets. It has often been described as an erector set on steroids. The IDS was designed to be an engineering proto-typing kit and not just a robot kit. It is tough enough for students to incorporate their own fabricated mechanisms and locally sourced or salvaged components. The GEARS IDS is still being utilized by high schools and colleges around the world.
GEARS Develops Revolutionary Robot Platform for Today's Classroom
In 2008, to meet the specific challenges of today's robot class, GEARS launched the HEAVY METAL CHASSIS line. This line is comprised of 3 highly scalable robot kits. GEARS focused on the requirements for a new robotic platform in the classroom.
View why GEARS robots are better!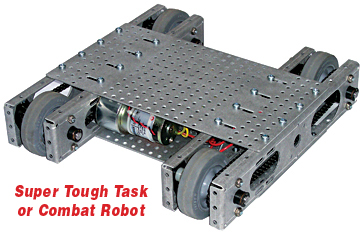 The HMC line is a cost-effective and extremely rugged mobile platform that can be assembled quickly and easily. It is specifically designed for teaching and learning about electro mechanical engineering concepts and is supported by educational resources.
We make it easy to pimp your bot!
WHY GEARS For Your Educational ROBOTICS KIT?
1. Cost Effective
2. Easy Classroom Management
HMC lite has fewer than 25 components. (Less fasteners)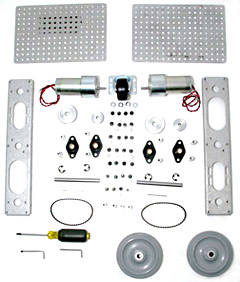 3. Quick and Easy to Construct
Easy construction allows for more learning time and provides all students with the opportunity for success. Assembles in one to two class periods. GEARS provides detailed construction manuals.
4. Most Robust Educational Robotics Kit Available
Heavy Metal Chassis was designed to last for years in the classroom, eliminating the need to purchase annual consumables. HMC supports a standing weight of 200 pounds and payloads ranging from 15-45 pounds.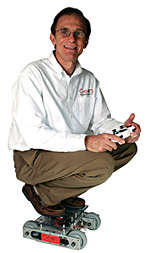 5. Open Platform Mechanically
Choice of Drive Systems – belt drive, chain drive, gear drive, pulley drive.
Choice of Motors – Students have the ability to add dozens of motors. We even provide adapter plates for our competitor's motors.
Choice of Tires – Our bushings and adapters allow various Colson wheels and off-road tires.
Choice of Batteries – Different chemistries and ratings SLA, NiMh, or use your own 12 volt batteries.
Our products make integrating 3rd party off the shelf components from Stock Drive Products, McMaster Carr, Smallparts and other distributors easy and cost effective when enhancing designs for applications to address engineering challenges.
6. Open Platform Electronically
Our products allow you to integrate controls from other robotic kits so you can expand and enhance your original investment. See examples of NXT, VEX, Basic Stamp and Machine Science XIP MODs.