Products
H-MAC
Heavy Metal Articulating Chassis (H-MAC) employs a chain drive system. Its large wheels and articulating chassis make it ideal for outside activities. Total chassis time of construction for two students is 1-1/2 to 2 hours.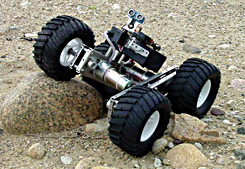 The H-MAC uses rugged components like the standard HMC.
One 3/8" diameter 10.5" long axle
Four 3/8" diameter 5" long steel axles
Two 25-Pitch, 100-Link Assembled Chain
Two 25-Pitch, 42-Link Assembled Chain
Four 7" high lug tires
Two Efficient 7-12V all steel gearhead motors develop maximum torque while drawing the lowest current (2 amp current draw produces 150 oz-in at @300 RPM: Torque constant = @75 oz-in/amp continuous rating!)
Self-aligning 3/8" flanged bronze bearings
All aluminum structural metal sets (0.090" 5052 and 6061-T6 Alloys)
The tires used on the H-MAC are made from a medium soft rubber compound. These tires can support the weight of batteries, sensors, and cameras. In addition, the tires can be partially filled with sand or lead shot in order to gain additional traction. Partially filling the tires with ballast will lower the HMAC's overall center of gravity and provides additional stability over rough terrain.
Chassis, motors, drive system, and wheels.
HMAC Construction Guide Documentation
Heavy Metal Articulating Chassis Goes Off Road