Products
Battery and Matching Charger
12 volt 1.2Ah SLA Battery
Size: L 3.82" x W 1.69" H 2.05"
H including terminals: 2.28", F1 terminals: .187"
Weight: 1 lb.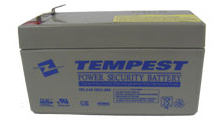 Matching 12 volt @ 0.75 Amp SLA Smart Charger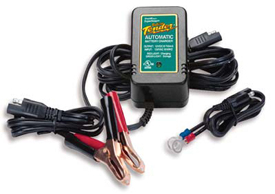 Perfect for all lead-acid, flooded or sealed maintenance free batteries (AGM and gel cell).
Complete 4-step charging program (Initialization, Bulk Charge, Absorption Mode, Float Mode).
Automatically switches to float / maintenance voltage after fully charging the battery.
If the battery voltage drops too far under load, full charger output power resumes.
Solid state two color LED indicates stage of charger.
Spark proof.
Reverse polarity protected.
12' output cord.
---
12volt 1.5Ah NiMH Battery Pack
Discharge rate: 30amps
Wire: 16ga with Tamiya connector
Size: L 3.25" x W 1.13" x H 1.32"
Weight: 9 oz.

Mating Kyosho Cable
with pigtail ends for easy wiring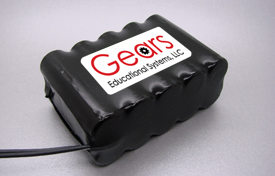 Matching Charger for 1.5Ah NiMH Battery Pack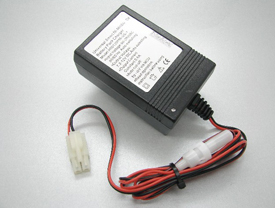 NiMH/Nicad Peak Charger 6-10 cell (7.2-12v), 115/240vac input.
Charges 6-10 cell Nicad & NiMH battery packs
Microprocessor controlled negative delta peak detection circuit
115/240vac input
Automatically senses pack voltage
Red/green LED charge indicator lights
Charge rate 600mA
Automatic trickle charge mode: 100ma
Charges packs from 1000ma AAA to 10,000ma D
Typical charge time for a 3000mah pack 5 hours
Connector: Kyosho male
---
12 volt 4.5Ah NiMH Battery Pack
Discharge rate: 35amps
Wire: 14ga with Tamiya connector
Size: L 4.50" x W 1.68" x H 1.76"
Weight: 25 oz.
Mating Kyosho Cable
with pigtail ends for easy wiring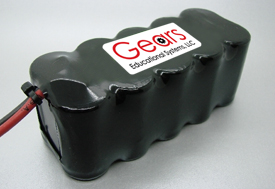 Matching Charger for 4.2Ah NiMH Battery Pack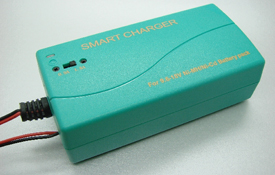 Fast charges 8-15 cell Nicad & NiMH battery packs
Microprocessor controlled negative delta peak detection circuit
115/240vac input
Automatically senses pack voltage
Red/green LED charge indicator lights
Selectable Charge rate .90amps or 1.8amps
Automatic trickle charge mode: 50ma
Charges packs from 2000mah AA to 10,000mah D
Typical charge time for a 3000mah pack 1.5 hours
Connector: Kyosho male