Pit Boss
Use the Gears-IDS Invention and Design System and other engineering findings to build a Robotic athlete that can be the Pit Boss.
This project can be used to to design and build competitive robot athletes in the comfort and convenience of your classroom.
View a 10mb .wmv video that shows the robots in action!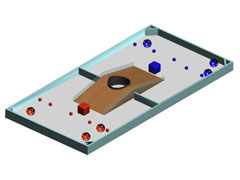 GEARS-IDS Project Description Document of the Pit Boss game table
This document illustrates and describes the construction of the game table and the rules of play, and it includes an outline of units and lessons that can be supported by participating in table top engineering challenges like Pit Boss!