Electronics
Wasp Controller
Wasp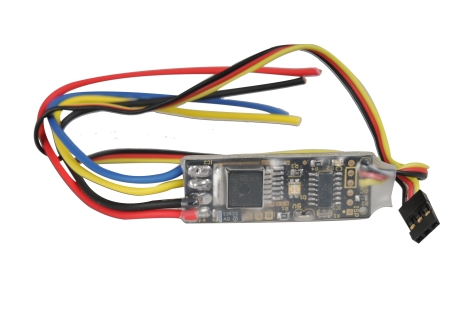 The Wasp controller is a perfect match for the GEARS competition motor, or for any high performance application.
These light-weight, high performance Wasp's are perfect for powering brushed DC motors with continuous outputs in the 100-200 Watt range.
| | |
| --- | --- |
| Voltage Range: | 6V-24V (28V absolute max) |
| Current: | 10A cont. at 100% duty cycle |
| | 9A cont. at 70% |
| | 30A - 5 second peak |
| PWM Frequency: | 3.9kHz |
| | |
| Over-Current and Over-Temp Protection: | Built-in |
| Input Voltage: | 2.5 V - 5.5 V = logic high |
| Levels: | RC Standard Connection |
| Size: | 0.65" x 1.85" x 0.44" |
| Weight: | 9 gm with RC lead |
| Mounting: | 1x - 4-40 or M2.5 size hole |
Your actual current capacity will vary based on the type of load, the length and size of wires, power supply capability and other factors.
Features Include:
Size: .65" x 1.85" x .44"
Weight: 9.0 grams with servo lead installed
Standard R/C pulse format
Calibrate function to match unit to radio signal range. Settings retained in EEPROM non-volatile storage.
6.5V to 28V battery voltage (>20V requires an external 5V supply)
Fully reversible H-bridge design. Equal power handling in both directions
10A continuous, 30A peak current
Full current limiting and over temp limiting.
Limit switch inputs to stop motion in one direction when closed. Motion is allowed in the other direction.
Indicator LED for speed and direction of motor
Status LED status information and mode indications
Receiver battery eliminator circuit (BEC) standard – may be disabled. This can provide up to 100 mA of current at 5V to the RC receiver and other attached electronic circuits. (Must be de-rated for input voltage above 16V)
Failsafe shuts off motor if R/C signal is lost
FLASH-based microcontroller with upgradeable software via in-circuit programming header
Ceramic oscillator (crystal) for stable operation at all temperatures
Optional 4 position screw terminal may be user soldered to top or bottom of PCB for easy removal of battery and motor wires
Capable of supporting I2C or serial command streams. Not supported by stock R/C software but user may replace the stock code if desired. Contact us if you would like to discuss custom software for your application.